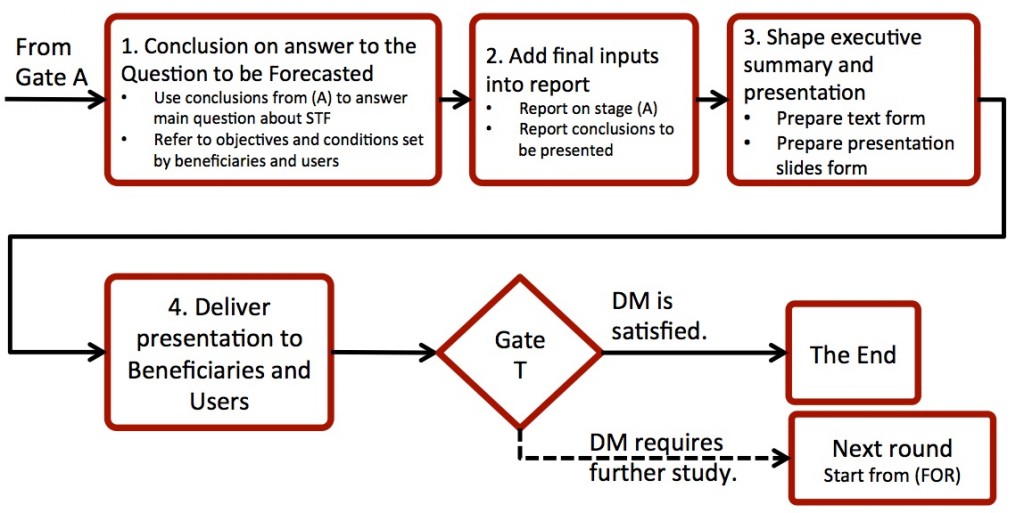 Method Method = FORMAT methodology
The main function of Stage TT = Transfer  is to translate conclusions about traits of  STFSTF = System to be forecasted  to users and beneficiaries (decision makers – DM). It is necessary to prepare a presentation, report and present results for users and beneficiaries. Explicit answers for questions of forecast, formulated in Stage  FORFOR = FORmulate  have to be delivered.
Ingredients
Knowledge
Knowledge learned within study about STF are required. Skills to develop a report and to deliver presentation are essential.
Time
2-3 working sessions (2-4h each) within 3-5 working days
Material
Meeting room equipped by video-projector and flipchart.
People
2-4 analysts + Users and Beneficiaries.
Tools
None.
Software
Office software, collaboration software.
Instructions
Build answers to the questions for forecast formulated at Stage FOR 

FOR = FORmulate

Use list of traits of STF

STF = System to be forecasted

 and features of super-systems and sub-systems from Stage A 

A = Act

(A_4) for answering main question and sub-questions.
Refer to objectives (FOR 

FOR = FORmulate

Step 4 – Why?) and conditions set by beneficiaries and users.

Review and update the final outputs in accordance with requirements from users and beneficiaries:

Build the first version of the executive summary.
Develop and provide a preliminary version of the final presentation for the working team with invited specialists and users.
Collect feedback on this preliminary presentation and the executive summary.

Develop the final presentation:

Prepare short conclusions of study.
Develop the final version of presentation of the forecast for users and beneficiaries.

Deliver presentation to beneficiaries and users and submit the report with the executive summary.
Make a decision on the developed results:

Decision makers, users and beneficiaries are satisfied (or not) and project is concluded.
Further study is required to improve the reliability of the forecast and/or to update its scope or the level of detail.
Tips
➔     In order to improve clarity of answers for the forecasting question, it is strongly recommended to collaborate with users and beneficiaries of forecast in steps 1, 2 of Stage TT = Transfer .
➔     When developing the report and the presentation, a reduced working team of two analysts is more efficient than a larger team. Contribution from other members of team may be collected to build slides and documents in advance (during Stage AA = Act ).
➔     Report and executive summary should be made consistent with internal standards of the organization of the users and beneficiaries. It is recommended to enquire about required reporting form prior to Stage TT = Transfer .
v.2