Describe the answers to the questions of the forecast and provide measurable supporting arguments.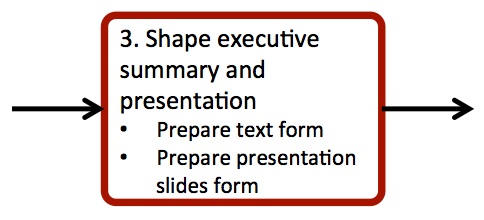 Method
The executive summary is shaped as a brief conclusion of the technology forecasting process. A presentation with extended Question and Answers provides clear understanding of forecast.
Instructions
Indicative structure of the Executive summary – an overview of results of the forecasting study:
1. Questions addressed by the forecast and related answers
2. Qualitative and quantitative evidences of the forecast
3. How the study was performed?
4. Where the forecast might be used?
5. Presentation of the team involved in the project
Develop a presentation on the forecasting project, i.e. slides, animation, video, including:
Supporting qualitative and quantitative data
The reasoning that was applied for building the forecast
Discuss and update the first version of the executive summary and presentation with the working team.
Tips
➔     Aim for a short presentation approach i.e. 10 slides, 20 minutes, big font size (this implies strong visuals with reduced text per slide)
➔     Presentation can be based on the material accumulated throughout the study
➔     In your presentation, pay attention to the following:
present the main questions of the forecast  and the explicit answers to those questions
add a description of the system under study (STF)
add conclusions for whole study
Suggested reading
Raynolds, G. (2011). Presentation Zen: Simple Ideas on Presentation Design and Delivery (2nd ed., p. 312). New Riders.
Duarte, N. (2011). slide:ology (p. 296). O'Reilly Media.
Kawasaki, G. (2005). The 10/20/30 Rule of PowerPoint, http://blog.guykawasaki.com/2005/12/the_102030_rule.html
Example
Here you can find an executive summary prepared for a case study "decoration". Decoration case study was investigating technologies that produce markings on home appliances that deliver data to the user. Construction of this executive summary follows an outline proposed above, however it was adjusted to fit form of obtained results. For instance, questions are followed directly by answers together with identified evolutionary developments, what improves readability.
Executive summary for case study "decoration"
Main and sub-questions answered (this point is using a material prepared for step T_1)
Which is the most promising decoration technology for achieving present and future product need (quality, flexibility, cost effectiveness) in the future 5 to 10 years (2019-2024) for home appliances products at Europe, Middle East, and Africa markets?
In the future 5 to 10 years (2019-2024) main technologies for decoration for home appliances products at Europe, Middle East, and Africa markets will be improved silk printing in combination with digital displays. Performed study recognized the following traits of future decoration technologies:
for informative parts the decoration on home appliance will be dynamic (e.g. display, e-ink technologies for multi-language)
for aesthetic parts (e.g. brand name) the decoration will provide
o   more variability for colours (including metallic) and
o   more texture effects;
o   digital image processing will be more in use;
decoration process will be accomplished in line – cycle time of decoration process tends to be coordinated with cycle time of production line
o   with reduced energy consumption,
o   more recyclable parts and
o   minimum stock.
Back side of transparent parts of home appliance will be used more frequently to improve abrasive and chemical resistance of decoration.
Next decorations technologies will provide on the level of production process "0 time" for change over, and for change over for a part type, when productivity of process (pcs/h) will be close to single colour silk screening (in 2013).
Maintainability [non working, h] of used equipment tends to improve due to self-maintainability.
Special investment for equipment, human resources (HR) and maintenances will be allocated.
o   Investment to new technology tends to be lower (below alternatives when delivering the same result);
o   operation cost is going to decrease;
o   environmental impact is going to decrease
1)    Will decoration technologies be needed? Yes. Decoration technologies will be within predicted time horizon for delivering  information to users and for improving aesthetic experience.
2)    Which will be the expected (estimated) evolution of Main Parameters of ink-jet and laser marking? a) During coming ten years, ink-jet technology will evolve towards improvement of controllability of printing process (chemical resistance, abrasion resistance and metallic appearance); ease of maintenance; increasing operation cost effectiveness. b) During coming ten years, laser marking technology will evolve in the direction of ease of maintenance; increasing operation cost effectiveness and decrease initial investments.
3)    When will ink-jet technology be ready to substitute silk screening and pad printing for domestic appliances? During coming ten years ink-jet technology will not substitute silk screening and pad printing for mass home appliances products at Europe, Middle East, and Africa. However, this technology will grow considerably as complementary one in the second part of next decade.
When will laser marking be able to produce coloured marks in plastic? Performed study has not recognized any signs than laser marking will be able in coming 10 years to produce coloured marks for mass home appliances products at Europe, Middle East, and Africa.
How was this study prepared?
Main question was formulated in cooperation with Whirlpool (WH) beneficiaries. The decoration system was described as a manufacturing process with its components and context.The same was done for selected group of alternative technologies that are important for WH. Data about technologies have been collected from provided documentation, during factory visits and from invited WH experts.
Alternative technologies have been studied for problems. Limiting resources that linked with problems have been listed. Observation of evolutionary changes gave an idea about future development of system's elements. In this case study it was not possible to perform the quantitative analysis and forecast conclusions were built basing on the results of qualitative studies.
Where will the forecasting results be used?
Utilization of forecast after delivery was described as follows:
For reasoning about investment in modification or change in decorations (e.g. currently a budget amount involved is difficult to assess – business case should be prepared each time),
For Factory Master Plan (it is influenced by decision on decoration technologies).
To communicate to people – first client:
o   Product Design,
o   Marketing,
o   Product Development.
What were competitive technologies considered inside forecasting study?
The top group of competitive technologies consisted of: silk screening, pad printing and laser marking. Extended group included also: ink-jet printing, chemical etching, hot stamping.
Present the team working on the project
The forecasting team was composed of: a four-person core team (FORMAT project developers). WH beneficiaries and experts contributed at first and concluding working sessions. Two WH experts contributed also to the individual working sessions and guided the factory visits.
Presentation
Presentation that was delivered to beneficiaries and experts at the concluding working session can be downloaded from the following link.
v.2