This handbook is designed to be a practitioner's manual as well as a reference resource. The sections of the handbook serve to be dividers of the stages of the FORMAT methodology. The stages are colour coded according to the following scheme: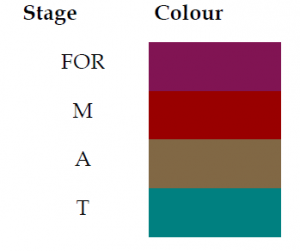 Some of the important sections of the stage are:
Method—An overview of the stage
Prerequisites—Preparations that need to be taken into account before executing the stage
Ingredients—Necessary to perform the stage
Instructions—What needs to be done in what order
Tips—Experiential advice from the FORMAT team

The highlighted portion indicates the current stage in the methodology
Some of the important section of the step are:
Method
Instructions
Tips
Example—An illustration of how the step works

The progress bar indicates the step.

The step is indicated by the arrow on the top left area of the page. Case studies at the end give the results of the application of the methodology in organizational contexts.