Complete the report of the project.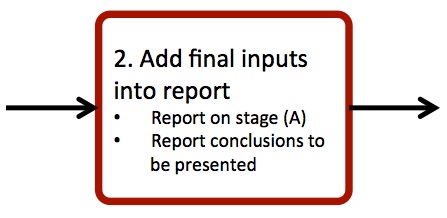 Method
T Step 2 delivers conclusions that will be reported to beneficiaries and users at the final session of the technology forecasting project.
Instructions
Collect results from preceding stages: for instance, the slides developed during case study (Stage FOR, Stage M, Stage A).
Build the first version of the executive summary: report the results of last steps in stage A (A_4) to users and beneficiaries.
Compile and discuss a preliminary version of the final presentation within working team with invited specialists and users of forecast.
Collect feedbacks on this preliminary presentation and the executive summary.
Write the report
Tips
➔    Collect all slides from preceding stages and group them into three sets: FOR, M, A.
➔    Check consistency in language, references and edition layout among reports prepared by different members of the analyst team.
➔    Dedicate time to improve clarity of reports – pay attention to the specific terms.
➔    Structure the report with headlines to improve readability and conformity with requirements from users and beneficiaries.
Suggested reading
B. Badiru, Project Management for Research: a guide for engineering and science, First. London: Chapman & Hall, 1996, p. 224.
Felmley, James C. "Analyzing and Reporting Forecast Performance." The Journal of Business Forecasting Methods & Systems 12.4 (1994): 13.
Cabri, Anthony, and Mike Griffiths. "Earned Value and Agile Reporting."AGILE. Vol. 6. 2006.
Example
Building a report from a forecasting case study depends on a way how the work on each stage was organized. If FORMAT template has been applied then results from each working session are the most likely recorded in the form of presentation slides. Any additional content assisting the slides is put in the form of presenter notes. In this case, preparation of a report can be done by simply printing all presentations assembled for each gate in the form of handouts. Handouts format provides on each page a picture of a slide with presenter notes under each slide. Using handouts format limits the editorial tasks to scaling of the slide's picture in order to maintain their readability.
Reporting of step 4 in stage A, as a step right before a gate A, may be still in the process of refining. Similar situation is for immediately preceding step, step 1 in stage T. In order to complete reporting, slides should be finished and integrated in their latest form.
An example of a report from case study can be seen in the 'case study' section – follow the reference to 'case study reports.'
v.2